Five or six generations ago, Native people of the Pacific Northwest ate a complex diet that changed with the seasons. Called First Foods, these are the staples they always relied on.
Today a movement in tribal communities is promoting First Foods traditions and decolonizing Native diets and taste buds to restore bodily, cultural and spiritual health.
In spring 2022, photographer Erika J. Schultz, reporter Lynda Mapes and I traveled along with Native people gathering their First Foods, to document these cultural practices, their meaning and centrality to the treaty promises. Together, we developed a visually dynamic story that immerses viewers in the environment where these foods are found using layer video scenes intertwined with the text and, through video stories and image galleries, focuses on the personal investment and connection communities have with these traditional foods.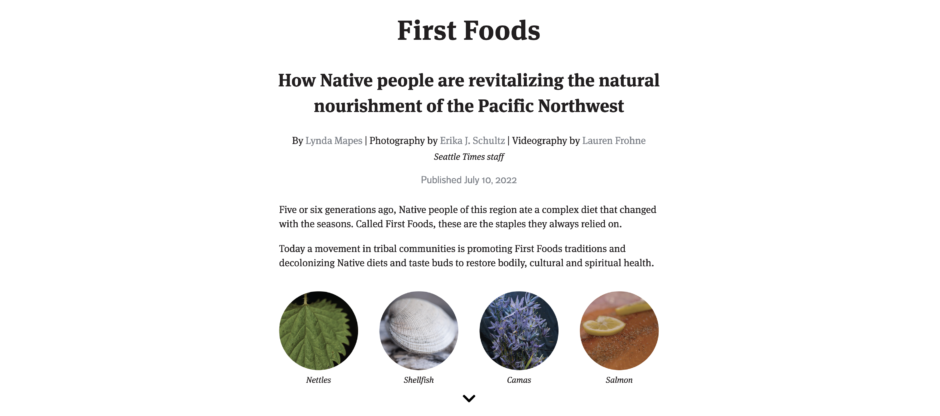 In total, I produced, filmed and edited four video stories that appear throughout the online presentation, plus use layered video scenes paired with text to walk the viewer through the landscape. I also produced a series of Instagram reels to promote the story on social (Nettles, Camas, Shellfish).
Watch two of the featured video stories below:
Nettles: The supergreen of spring
As spring breaks through the cold, gray skies of the Pacific Northwest winter, Native foods educator and Muckleshoot tribal member Valerie Segrest harvests nettles with her two young daughters, teaching them how to sustainably cultivate these greens that deliver essential nutrition and medicine.
Connecting with the land through camas
Native people have cultivated prairies and harvested the roots of camas flowers for thousands of years. Native plants educator and Spokane tribal member Elizabeth Campbell joined an intertribal group of diggers to tend to the prairie at Glacial Heritage Preserve, aerating the soil around the camas and gathering bulbs to feast on together.
My role: Videographer, drone operator, video editor, reporter, story design, social engagement.